Get Access to Institutional
‍Real Asset Investments
Alongside Leading and Sustainable Managers
Invest flexibly with small tickets

In Single asset or Fund positions

Divest positions on the same platform

Register
Platform Features
Smaller tickets
Ability to invest as little as 500k on a single asset or fund level in otherwise very large minimum ticket assets/funds
Single assets and fund positions
Get access to the best sustainable funds from top managers as well as single assets via co-investment through a standardised structure
DD and independent analysis on manager and deal
Independent continuous analysis by Scope Analysis GmbH and access to a data room including vendor due diligence reports
Fully digital process
Invest with minimal effort using a fully digital process from due diligence to KYC and subscription to allocation
Standardized investor reporting
Get access to quarterly and annual reporting from managers including ESG, financial and performance reports
Divest positions on the same platform
Securitization enables efficient transfer of securities, and you get access to other platform investors to be able to divest positions

Access to educational content about investing in renewables
Whitepaper
Blog
Websites
Access to database of renewable
assets in Europe
Invest through RealPort in easy steps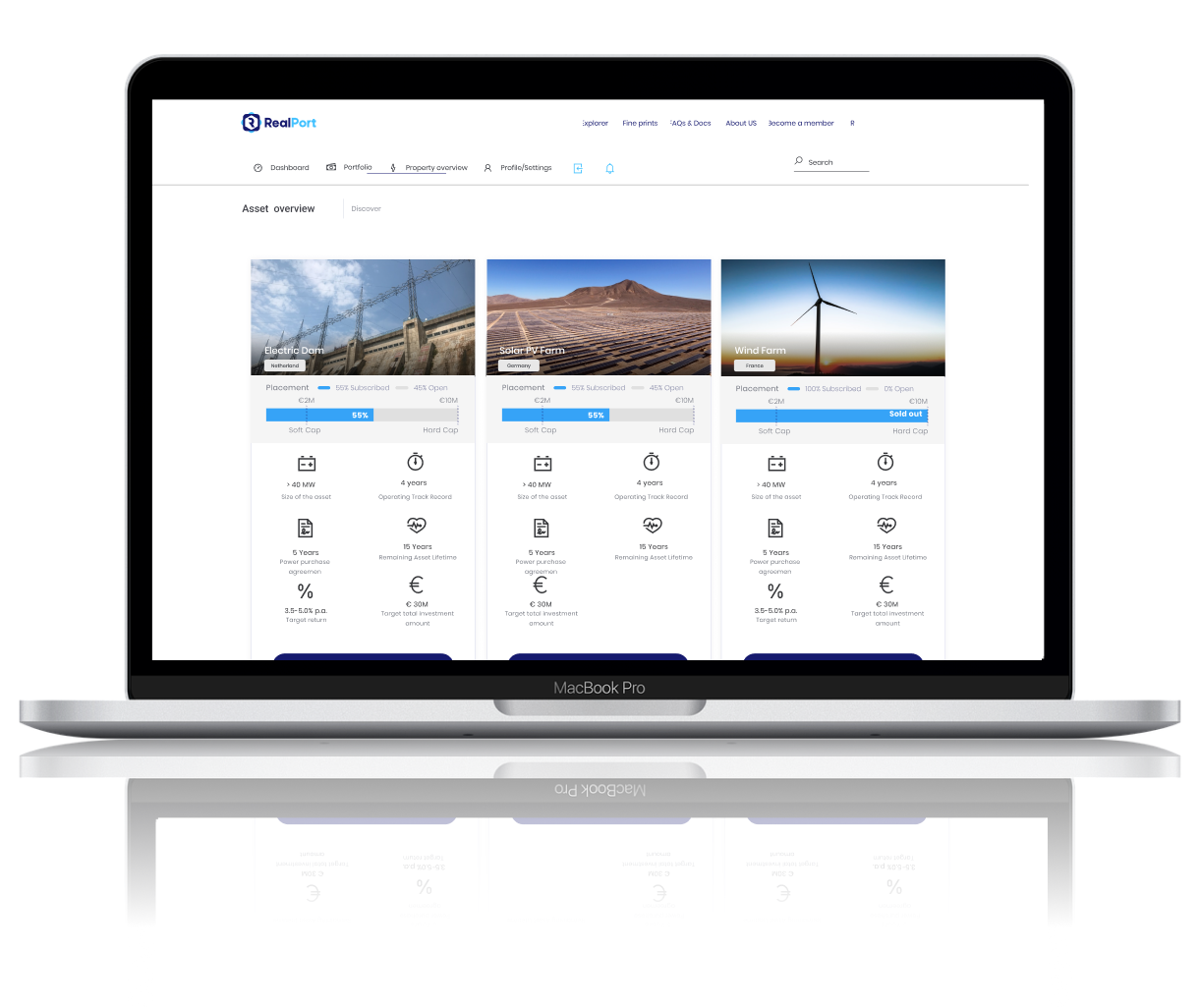 Free registration & browse available deals

Request full data room access for interesting deals

Sign NDA (first time users only)


View data room and evaluate deal


Subscription and payment on subscription closing

Receive distributions and reports on the same platform
Who can invest through Realport?
All the Professional investors not located in United States can invest through Realport.
What type of deal information do the investors get to make an investment?
Investors will get access to the whole data room which consists of Asset due diligence data, independent analysis reports, ESG reports, etc.
How are allocations done through Realport?
Realport is a transparent platform and the allocation is done based on first come first serve basis. At any point in time, investors will be able to see how much % of the asset is already allocated and how much is left.
Does Realport rates the assets on the platform or provides any kind of advice in choosing the assets to invest?
Realport does not rate the assets or provide any kind of investment advice. Realport strives to bring top quality assets for investments and transparently provides all the information to the investors so that they can take an informed decision